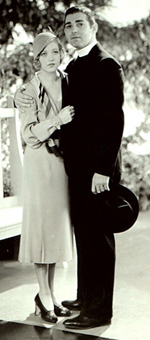 Polly of the Circus
Metro-Goldwyn-Mayer, 1932
Directed by Alfred Santell
Running time: 69 minutes

Cast:
Marion Davies, Clark Gable, C. Aubrey Smith, David Landau, Ray Milland.

Synopsis:
Polly (Marion Davies) is a conceited trapeze artist in a traveling circus. Traveling to the small town of Oronta becomes trying when the town orders posters of Polly to be fully clothed. Outraged, Polly rushes to the town clergyman, Rev. John Hartly (Clark Gable), to give him a piece of her mind.

Polly is insisting to work without a net and has a bad fall, seriously injuring herself. Rev. Hartley orders her taken to his house since the hospital is miles away. Polly is nursed back to health by the young clergyman and they eventually marry.

Johns Uncle, Rev. James Northcott (C. Aubrey Smith) is not amused at their union, in fact John losses his church over the marriage. The church hierarchy would not accept a circus performer as the wife of their pastor.

Citing his disappointment at losing his congregation, Polly dashes back to work at the circus and demands to do a difficult maneuver without a net. She intends to kill herself so John can have his job back. John and his Uncle discover what Polly is up to in just enough time to try to convince her not to go through with her plans. She insists that she will do the maneuver and completes it successfully.

Polly checks to make sure that it's O.K. with Uncle James that they are married. He responds that it's O.K., they embrace and the film ends.