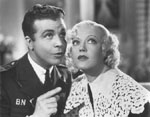 Page Miss Glory
Warner Brothers, 1935
Directed by Mervyn LeRoy
Running time: 90 minutes

Songs:
Page Miss Glory.

Cast:
Marion Davies, Dick Powell, Pat O'Brien, Mary Astor, Allen Jenkins, Frank McHugh, Patsy Kelly.

Synopsis:
Loretta Dowrimple, tired of life in Red Hook, moves to New York to take the city by storm; as a chamber maid. At the Park Regis, Loretta pals around with fellow maid Patsy Kelly. A broke photographer (Pat O'Brien) is scamming the hotel for as long as they'll let him stay.

A radio show sponsored by a big yeast company advertises for people to send in photographs for a beauty contest with a big prize. O'Brien and his pal concoct a phoney photo using the best parts from all the famous movie stars. Proclaimed "Dawn Glory", their photo wins the contest and they are strapped to produce a real Miss Glory. Guess who's cleaning the bedroom when Miss Glory's presence is urgent? Loretta becomes a reluctant Miss Glory and shrieks when the press flashbulbs flair.

A dizzy pilot (Dick Powell) named Bingo falls in love with Miss Glory (from the photo) and proposes to her over a live radio broadcast. Dawn accepts the proposal and there are many attempts to keep the two of them apart. O'Brien is not anxious to loose his golden goose, but everything falls apart when Dawn is kidnapped. Eventually Dawn is found in the hotel and Bingo takes her up in his plane for some 'loops'. They fly away happily ever after.

See the trailer for PAGE MISS GLORY at: http://www.tcm.com/mediaroom/index/#player_area. Type Page Miss Glory into the search field and click on "Go".