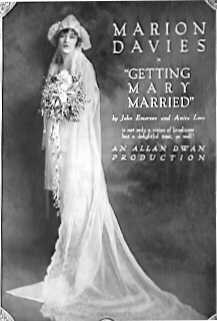 Getting Mary Married
Select Pictures (Cosmopolitan), 1919
Directed by Allan Dwan
Screenplay by Anita Loos and John Emerson

Cast:
Marion Davies, Norman Kerry, Frederick Burton, Matt Moore, Constance Beaumar, Amilia Summerville.

Synopsis:
Mary (Marion Davies) is in a predicament. She will lose her inheritance the minute she marries, but her greedy family is anxious for this to happen, and there are suitors a plenty!