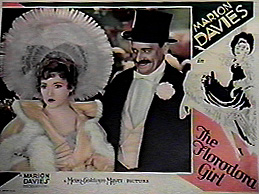 The Florodora Girl
Metro-Goldwyn-Mayer, 1930
Directed by Harry Beaumont
Running Time: 80 Minutes

Songs:
Tell Me Pretty Maiden, My Kind of a Man.

Cast:
Marion Davies, Lawrence Gray, Walter Catlett.

Synopsis:
Daisy (Marion Davies) is the last of the famous Florodora Sextette Girls not to be married or engaged. She is awkward and shy until she meets, and falls in love with Jack Vibart, who's first "intentions are not honorable".

Jack really falls for Daisy but his Mother persuades daisy to stay away so that the family won't have to be disgraced with a show girl. In the final reel (shot in two-tone Technicolor) Jack goes backstage and follows Daisy out onto the stage during a performance to tell her he loves her and propose. She resists, still abiding my his Mother's wishes. Jack, not taking no for an answer, picks Daisy up and carries her out the stage door. In a carriage just outside the door sits Jacks Mother, waiting to tell Daisy that she approves of their union. The film ends tearfully and happily as they ride off in the snow.

---