Check out the new Related Books section.
4 December 2011
Happy Holidays!
I hope you all have a great Holiday season and New Year. We're going to start the new year off the right way, with a boatload of Marion movies on Turner Classic Movies! On Marion's birthday (January 3rd) TCM is airing 9 Davies films in a row. Starting at 3am PST, they are showing THE FLORODORA GIRL, NOT SO DUMB, THE BACHELOR FATHER, FIVE AND TEN, BLONDIE OF THE FOLLIES, PEG O' MY HEART, OPERATOR 13, CAIN AND MABEL, and HEART'S DIVIDED. Tune and see our facorite gal in some of her best films!
Be be sure to check out the Warner Brothers Archives at:
http://www.wbshop.com/Warner-Archive/ARCHIVE,default,sc.html
They have dozens of classic movie titles for sale, including several of Marion's films. For the first time you may purchase studio quality DVD's (no Blu-Ray yet, sorry) of OPERATOR 13, THE BACHELOR FATHER, HOLLYWOOD REVUE OF 1929, CAIN AND MABEL, THE PATSY, and THE RED MILL. You may also purchase a copy of QUALITY STREET, which is included with the DVD of "Captured on Film – The True Story of Marion Davies."
The remains of Marion's beach house, frequently nick-named "Ocean House" has opened to the public after much refurbishing. It is now known as the Annenberg Beach House, and for a small fee you may swim in Marion's 110 foot long Italian marble pool! The servants quarters, which the proprietors are incorrectly calling "The Guest House" has been restored, with photos of Marion everywhere, it's really a nice tribute.
I had to laugh when I saw the servant's quarters being billed as the guest house. I might remind you that the beach house could have made the White House blush, it was massive and extremely elegant. It had 34 bedrooms and over 60 bathrooms if my memory prevails. Marion would not have allowed any guest to stay in that little house and use those tiny bathrooms when the mansion was right there with ultra luxurious digs. The property had the servant's quarters, a changing room for the pool and the main house (and garages and tennis courts). Of course the main house is gone and all that is left is the pool and the servant's quarters. But they have built a nice club house which I believe may be rented out for special occasions. If you find yourself in the Santa Monica area you really should check it out.
As for beating the proverbial dead horse, there have been no new developments on the "It's A Wise Child" front. I recently tried to email my UCLA contact and didn't hear anything back. I will be down there on a business trip in February so I'll try to contact him then and see if I can't get something going.
Marion Davies Chat Room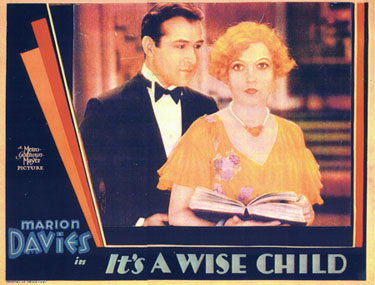 Marion's bed has been returned to her bedroom in the Hearst Castle! The bed was removed after W.R. died so that the Hearst twins could have twin beds in the room. I go on record stating that I griped and moaned on every visit to the castle (and there have been many) about the bed being missing so it was with a bit of shock on my last visit when I walked into Marion's room and there it was!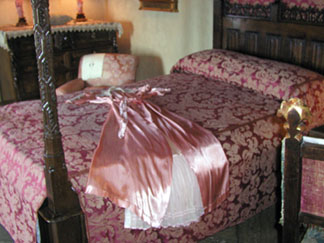 Bob Board's added an annex! Below is a shot of Bob holding two new prized possessions, two European movie magazines with Marion on the cover. The odd thing is that they're both from the 40's, which means that someone at the magazine really loved Marion at the time since she stopped making films in 1937. Bob's new annex houses all the miniature movie sets he's built, including FLORODORA GIRL, GOING HOLLYWOOD, OPERATOR 13, SHOW PEOPLE, PAGE MISS GLORY and CAIN AND MABEL. There are also replicas of the main hall of San Simeon (behind Bob in the photo), Grauman's Chinese Theatre and the Coconut Grove.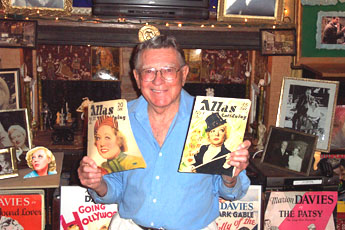 Bob with two European magazines featuring Marion.





Marion at the swearing in for President Kennedy, at left with a hanky over her face.

I know I've promised before but I am going to make it one of my new years resolutions to spruce up these pages and get things moving again. I hope you all have a very Marion Christmas (I coudln't resist) and a happy New Year!



Until next time....

Nick Langdon
The Marion Davies Home Page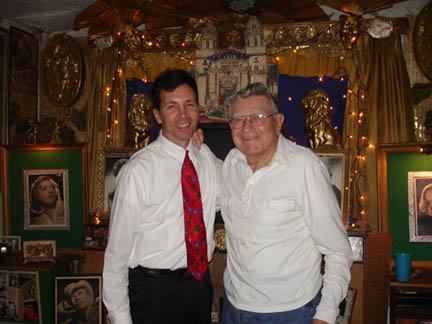 Visiting Bob in December 2010. It's Marion wall to wall at Bob's!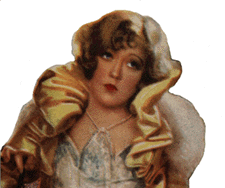 From
The Cardboard Lover
Click on the above
link to read a note
from Marion!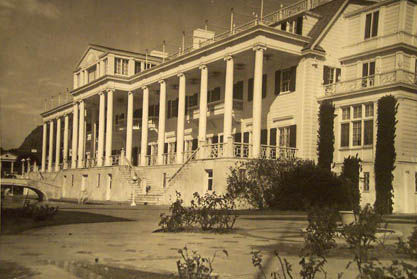 Marion's beloved Ocean House will somewhat rise
again as a public park in Santa Monica!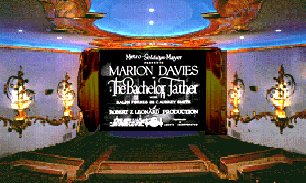 A shot of Sacramento's Crest Theatre with the opening titles of The Bachelor Father. Ok, notice there is no one in the theatre.... I superimposed the titles onto a previous photo of the theatre.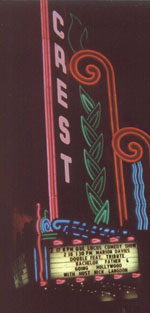 The beautiful Crest Theatre
all lit up for the Davies
double feature!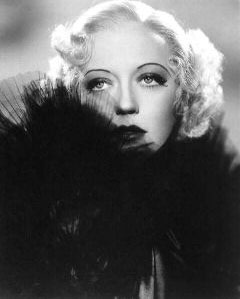 Marion posing for a publicity shot
for PAGE MISS GLORY, at
Warner Brothers, 1935.